Motul Grand Prix at the Circuit of the Valencia Region Ricardo Tormo
Publishing date 28/10/2015
A series of eye-catching infrastructures like the Ciudad de las Artes y las Ciencias in the city or the Circuit of the Valencia Region Ricardo Tormo in Cheste, where next 8th November the MotoGP title, the Moto3 title and the Moto3 subchampionship will be decided, joins the innumerable attractions which the province of Valencia has, united to culture for centuries.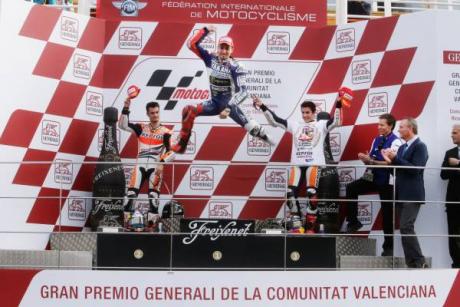 After the controversial Sepang race, in the MotoGP general classification, the two Yamaha pilots struggle for the title with seven points of advantage in favour of the Italian who will be forced to get back in from the last position of the starting line. This is the third time in which the MotoGP title is decided at the Valencian track, after Nicky Hayden was proclaimed champion in 2006 and Marc Márquez did it in 2013. In both occasions, the other two opponents with winning options were the two Yamaha pilots, Valentino Rossi in 2006 and Jorge Lorenzo in 2013.

Both Yamaha pilots have faced each other in six Grand Prix in Valencia since Lorenzo debuted in MotoGP in 2008. In this time period, each one has finished in three occasions in front of the other one, with an evaluation of two victories and three podiums for Lorenzo and four podiums for Rossi, who does not win at the Circuit since 2004, for eleven years now.

"Spartans" who form Jorge Lorenzo's Fan Club will meet in sectors 5 and 6 of the lower Green Tribune. While the official Fan Club of Il Dottore keeps its usual place in the Cheste facilities, sector 46 of the yellow Tribune.

After the Malaysia race, Danny Kent is two points to be away from being mathematically crowned with the Moto3 title. The victory of the Portuguese Miguel Oliveira puts the Portuguese with title options if and when he manages to win again in Cheste. Álex Rins' fall in Moto2 leaves the decision on the subchampionship of the intermediate category in the air. Other points separate Rins and Tito Rabat. Both will struggle for the second position in the general one in the last meeting of the World Championship.