A walk amongst stones and cheeses
Publishing date 23/09/2013
Place: the Maestrazgo in Castellón. The date: Saturday 28 September. The theme: dry stone and cheeses in Catí. Designed to tell you about the countryside and local history, and to give you the chance to try some delicious handmade cheese. The last Saturday in September looks like being a memorable day for nature lovers.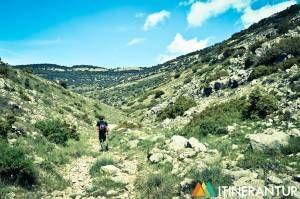 On Saturday, 28 September, a group of countryside interpretation guides from Itinerantur will be leading a tour that not only involves walking and looking around you, it also gives you an insight into the surrounding landscape. The tour explores the spectacular autumn countryside in the Alto Maestrazgo region, known as the cathedral of pedra en sec (dry stone), life in els masos (rural farms) and the art of dry stone construction. It also gives you a glimpse of how the succulent local Catí cheeses are made.
The route covers 11.5 kilometres and is expected to take about five hours at a relaxed pace. There will be a number of stops en route, during which the tour leaders will be describing local sights and history. The tour leaves Catí along the Camí del Bosc path and ends at Mas Sofondo, a spectacular mountain farmhouse. But the best bit comes right at the end: a delicious lunch featuring local products such as wine, cheese, cured sausage, bread, oil and seasonal fruit. Next Saturday looks like being an unforgettable day for many people!