Dance of 'Bèsties de Foc' (Fire Beasts) in Castelló de la Plana
Publishing date 25/05/2015
On May 30, the Castelló 16th Fire Beasts Meeting takes place, an event that has already become a classic among the "Bèsties de Foc" parades. An event where traditional music gets mixed with fireworks. Come to Castelló and live one of the most deeply rooted traditions of Valencia!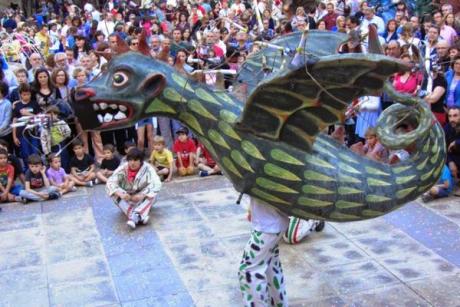 Castelló dresses up with dance and fire. The 16th Fire Beasts Meeting brings together different organizations in the Plaza Mayor (Main Square) and involves them in various events where music, dancing, fire beasts, and Giants have the main role.

Effigies and participating entities are different every year. The following organizations are involved in the Fire Beasts Meeting this year: Dolçainers i Tabaleters (Traditional musicians) from Grau; Cabuts and Panderoleta from l'AC El Torrelló d'Almassora; Drac Volador (Flying Dragon) from La Sagrera in Barcelona; Faram from Cervera; Mamut from Sant Vicenç dels Horts; Gegants i Dolçainers (Giants and traditional musicians) from El Trull de Vila-real; Gegants i Cabuts (Giants and big-headed figures) from Vinaròs; Falcons from Vilanova; Zeuzera Pyrina from L'Embruix del Morell; Griu d'Artesa from Lleida; together with the Dracs (Dragons), the Víbria and the Bestiari Infantil (beast children), and l'Haca Traca Almalafa from Castelló de Botafocs, and the hosters and planners of the Meeting, who celebrate their 25th Anniversary.

The Besties de Foc, or Fire monsters, are a symbolic representation of the devil that dates back to the eleventh and twelfth centuriesand are today a part of the tradition and culture of Valencia. This dance is organized during the spring and summer to represent the struggle of good against evil.

Come to Castelló and discover one of the most deeply rooted traditions of our regions!