Biar? January? Careful, King Paixaro is coming back!
Publishing date 11/01/2016
Every January, King Paixaro, a medieval character in charge of collecting agricultural tributes, returns to Biar. "Quin Páixaro!" But things have changed, and if you're around here in January you will not have to pay the tithe to enjoy the show.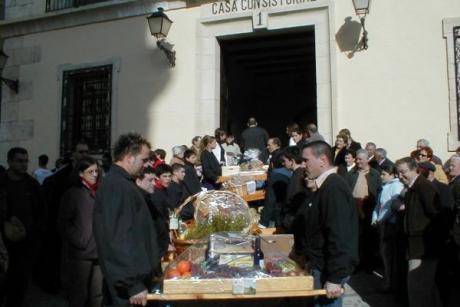 The Parade of the Bird King is one of the oldest traditions in the Valencia Region, and, in order to keep it alive, it was united to the festivities in honour of Saint Anthony the Abbot, or, as he is more popularly known, Saint Anthony of the Piggy. Thus, the festivities held on January 16 and 17 have two parts: a religious one, in which the village offers veneration and worship to Saint Anthony, and a civic part, in which King Paixaro plays a central role.

On Saturday, the king rides through the streets of the town on horseback, surrounded by torches and accompanied by two jesters who dance to the sound of the traditional oboes. The locals light bonfires at street corners, inviting participants to have a drink and eat some sweets and cold cuts. The night ends with a large open-air cordá.

On Sunday, the traditional cavallà is held, presided by King Paixaro, running through the streets of the town, accompanied by the neighbours and their animals. During it, the replegà, in which neighbours make donations, also takes place. On Sunday afternoon, a popular auction is held on Plaza de la Constitución with all that has been collected, and the proceeds are used to maintain the festivity.

The events end with the parade of Sant Antoni through Plaza de la Constitución, where traditional sacks of flour are awarded in a lottery.