New Season of Aqualandia in Benidorm
Publishing date 1/06/2015
It's time for fun, the time when the largest water park in Europe, Aqualandia opens its doors and inaugurates nothing more and nothing less than its thirty-first season! Come to Aqualandia and enjoy limitless of water.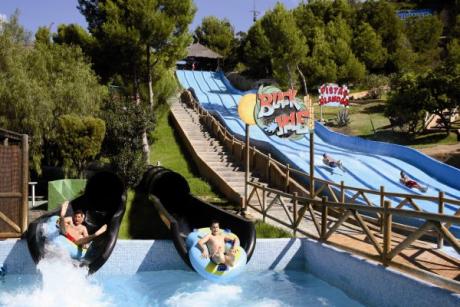 Meet the summer in Benidorm when Aqualandia opens. The season has just started, punctual as every one of the previous thirty years. And, of course, the Park introduced novelties to celebrate these three decades since its inauguration, and its commitment to bring a new concept of fun to a destination that had it all.

However, the desire to have fun never stops for Aqualandia. In the 2015 season, visitors will find a completely renovated Rapids ride. From this season on, this iconic ride where you travel within a "yellow donut" account on high doses of fantasy as it has been transformed into an Enchanted Forest, which is home to magical beings from other worlds and elements that will turn the glide through its slides and fall into its pools into a new, different, and unforgettable adventure.

An adventure that will not stop if you dare to go on rides such as the Big Bang, a set of slides of varying slope intended for lovers of strong emotions; Black Hole; Soft Slides; Rapids; Wave Pool; Zig-Zag; or Splash, among many others.

And if what you prefer is an adrenaline rush, VERTI-GO is your best option. It is a futuristic ride, consisting of two slides, 28 and 33 meters high, respectively. The 33 meter high slide stands as the highest in Europe and the highest capsule-slide in the world.

Come to Aqualandia and do not let them tell you, sure you will find the perfect ride!