Low Festival: music, beach, party and friends in Benidorm
Publishing date 21/07/2014
Lowers from all over the world, the Low Festival Benidorm is back to delight locals and foreigners with the best music. Over ninety bands and artists have confirmed their attendance, among them the mythical band Bristol Massive Attack, the Germans Kaiser Chiefs led by Ricky Wilson, the band from Madrid Vetusta Morla and Iván Ferreiro, who is a former singer of Los Piratas. Come to Benidorm and enjoy the sea, the sun, the party and especially the music ... Come to Low Festival this weekend, you would not be alone.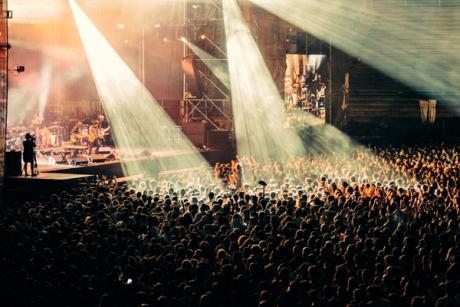 The Low Festival comes to Benidorm from 25th to 27th July. During three days the city of skyscrapers becomes the musical capital with the performances of Vetusta Morla, The Hives, Holy Ghost!, Iván Ferreiro, Sidonie, The Magician, Blood Red Shoes, We Are Standard, Triángulo de Amor Bizarro, Leon Benavente, Belako, Jack Knife, John Gray, Modelo de Respuesta Polar, DJ Coco, Mancora, Daze of Dawn, Automatic, Gipsy Casino and Delaire. All of them will play on the first day of festival.
On 26th July will be the turn of Massive Attach, Editors, MO, The Horrors, Corizonas, Sebastian, Yuck, Second, We Have Band, Xoel López, El Columpio Asesino, Elyella Djs, The Parrots, Money for Rope Carlos Sadness, Baralides, Pajaro, Wee Andie and the Midnight Sound, Empty Bottles, Emmerson, The Soda Clud, Desayuno an Dezevers.
And finally on 27th July it is expected the amazing performance of Kaiser Chiefs. During this day, there will be also playing Love of Lesbian, Izal, La Habitación Roja, Palma Violes, Los Campesinos!, Niños Mutantes, Oso Leone, Pony Bravo, Cheatahs, Paus, The Suicide of Western Culture, Ochoymedio Festivals Tour, Refree, The Free Fall Band, Lady's Garden, Nanga Parbat, Metropol and 5th and Pontiac.
If you love music, come to Benidorm this weekend, you will have fun as a real lower.