Rototom Sunsplash, a date with reggae in Benicassim
Publishing date 11/08/2014
Benicassim moves along to the reggae beat up to August 23 thanks to Rototom Sunsplash, a date that you can't miss with the musical heirs of Bob Marley. Six scenes with over 150 acts by artists such as Jesse Royal, Sean Paul, Chronixx, Jah9, Kabaka or Lauryn Hill confirm Rototom as one of the foremost reggae festivals in the international music scene. The 2014 Rototom Sunsplash festival begins under the motto We have a dream, enjoy!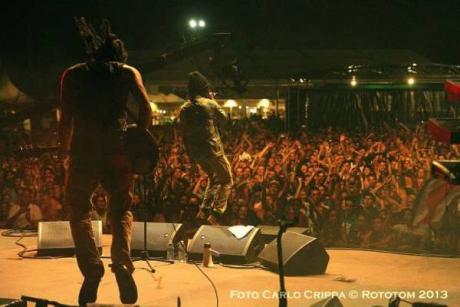 A love story that has already lasted 20 years reaches Benicassim. A romance surrounding Jamaican music which has managed to become the greatest reggae festival in Europe and one of the best in the world thanks to a collective combination of efforts and passion.
Rototom Sunsplash is more than a festival. Respect, solidarity, pacifism, tolerance, environmentalism... these are a few of the values that characterise the festival and all of the events in which it participates, in all its aspects.
The Main Scene hosts great stars from the international scene and the winners of the Europe and Latin America Reggae Contest. From Sunday 17 to Saturday, August 23rd, the Rototom Sunsplash 2014 social forum will be held under the motto "Pathways of culture and freedom". The headquarters of the Reggae University Camp hosts events organised by the Reggae Cultural Association, with the participation of artists, experts and activists from the national reggae scene, as well as projections in the Rototom Film Fest. Furthermore, professionals and lovers of exclusive recordings are in luck, as the Dubplate Studio is back in this edition of the Rototom Sunsplash festival.
The festival allows you to enjoy eight days' holidays with over 300 artists, ten cultural areas, workshops and activities on the beach. Enjoy!