Teatro: Tof Théatre presenta Piccoli Sentimenti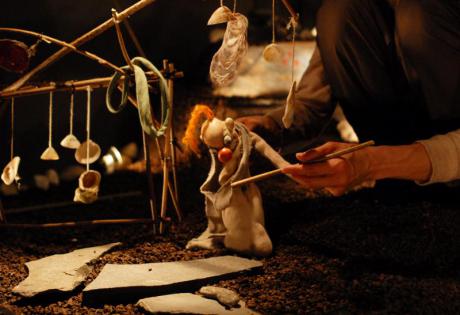 Description:
Actividades culturales
Dates:

Starts: 01/04/2016
Ends: 01/04/2016
Especialmente recomendado de 3 a 5 años y público familiar
Aforo limitado 120
Duración: 45 min.
Ficha artística: Antonio Catalano y Alain Moreau
Argumento: La idea surgió de una serie de experimentos improvisados con una pequeña marioneta, viendola evolucionar dentro de un mundo de construcciones de madera en miniatura y torres extrañas en el taller de Antonio Catalano, el creador de mundos sensibles ...
El público se sienta en el mismo borde del escenario dentro de un capullo de velos, tan cerca de la acción como sea posible. Una ligera brisa agita las hojas. Es el principio del mundo.
De repente algo se agita debajo de la tierra: una criatura, algo indefinible, arrastrándose a cuatro patas. Cuando su cara aparece la actuación de «Piccoli Sentimenti» comienza realmente y este personaje único, no más grande que una mano, comienza a experimentar sentimientos, uno por uno.
El miedo, el deseo, la soledad, la alegría, la ira, asombro - todo el espectro es explorado pero sin una palabra, solo el oído, la vista y el tacto (después de todo, hay más de un sentido que captura los sentimientos!)
En una exquisita mezcla del sensible mundo de las marionetas del Tof Théatre, el 'art brut' de Antonio Catalano y el indómito violín de Max Vandervorst.
Piccoli Sentimenti confecciona un canto a la maravilla del maravilloso despertar a la sensibilidad artística!
Compañía: Tof Théâtre nace el 25 de febrero de 1997 a iniciativa de Alain Moreau, con la creación de Le Tour du Bloc, un espectáculo inicialmente para adultos que se presentará más tarde en una versión para el público más joven y que se representó en más de 500 ocasiones en todo el mundo.
Adepta del realismo reducido, en sus más de 20 espectáculos, la compañía pervierte las técnicas tradicionales de la manipulación de marionetas, con los marionetistas a la vista del público. Las marionetas están siempre en el centro de sus espectáculos, con medidas que pueden variar de los 5 centímetros a los 5 metros y dirigen sus puestas en escena en ocasiones a un público adulto, en ocasiones a un público infantil y en la mayoría de los casos a ambos, unidos en un disfrute compartido.
Sin palabras, salpicado de humor y emociones, Tof Théâtre tiene siempre preparada su lupa, a la vez tierna y burlona, para ver en detalle entre nuestros microdramas.
Lugar: Teatro Muniicipal de Benicàssim
Precio: 3,00 €
Especialmente recomendada para la infancia
Horarios:
01/04/2016 - 12:00-18:00 h.
Information compiled by:
TOURIST INFO BENICÀSSIM
Calle Santo Tomás, 76 - bajo (Casa Abadía),
12560 Castellón
Phone: 964300102
Fax: 964300139
Email: benicasim@touristinfo.net
This office does not assume responsibility for sudden changes or variations of the events published on this site.