Costumes and music capture Aspe during the Jira Festival
Publishing date 7/02/2017
Also known as the "Last Thursday", the Jira Festival is considered a Provincial Tourist Interest.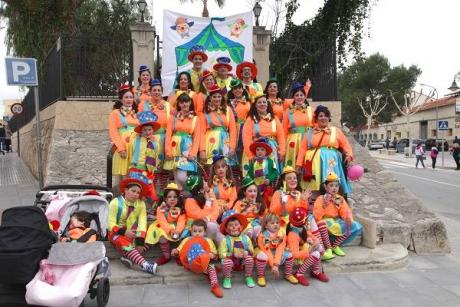 On the Thursday before Ash Wednesday, the Alicante town of Aspe prepares for the rigors of Lent with the Fiesta de la Jira (Jira Festival), also known as the "Last Thursday", an old and genuine celebration where costumes and entertaining songs prepared by the participants take center stage. Celebrated for more than one hundred years, the Festival is considered a Provincial Tourist Interest.

On February 23, the various pandillas (gangs) known as "Jiras" will parade through the streets of the town in a variety of original attire on the way to the Main Square. Once there, they perform a song with original lyrics. When the parades and performances are over the "Jiras" continue their march to the countryside to enjoy a feast of rice and rabbit, a typical local dish, and the delicious torrija, the sweet par excellence in Aspe's gastronomy. During these days, the town's bakeries prepare special, rounder baguettes that make the torrijas even tastier.

The three towers on the Aspe coat of arms are the essence of the town and refer to the castles Castillo del Río, Castillo del Aljau and Castillo del Calvario. The first two are Places of Cultural Interest. A walk through the winding streets and little squares of the old town will transport you back to its medieval origins. You can also admire the bourgeois houses built in the early 20th century and the devotional ceramic panels and shrines devoted to the Virgin or various saints located on the fronts of the houses.