Moors and Christians take over Altea
Publishing date 18/09/2013
This weekend, Altea is the setting for the traditional Moors and Christians festival. The grand entrances of Moors and Christians, along with a series of exciting parades, will be setting the pace of life in Altea over the next few days. Firework displays, music and fun rush through the streets like a trail of gunpowder, reaching every nook and cranny of the white town.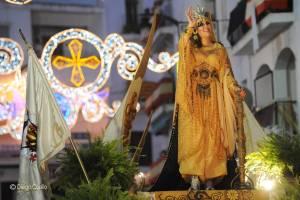 September is festival month par excellence in Altea. Events such as the brotherhood groups dinner, the invitation from the festival leaders and the Presentation all herald the start of the main festival week. This weekend Altea is at its most spectacular as it holds the Moors and Christians festival in honour of Sant Blas, plus the annual festival of the "Santísimo Cristo del Sagrario" (the most holy Christ of the sanctuary).
On Friday, a peal of bells and mortar explosions announce the start of the festival programme. Immediately afterwards, the town's festive events kick off with the "Entrà de la Murta", the parade of town bands, the ceremony of handing out the flags and the proclamation, which ends with the traditional cries of "Avant la festa!" (let the festival start!) and "Visca la festa!" (long live the festival!).
On Saturday, after the Moorish ambassador's visit, the "alardo" (a re-enactment of the battle between Moors and Christians) and the Christian surrender, don't miss the spectacular Christian entrance parade. On Sunday, events focus on the annual festival with a mass in honour of the "Santísimo Cristo de Sagrario" and a solemn procession involving festival leaders and groups. On Monday, following the visit of the Moorish ambassador, the battle re-enactment and the Moorish surrender, you can see the entrance of the Moors. On Tuesday, the day starts with a lively morning street parade, one of the last big events on the festival programme.
From Wednesday, other kinds of events take over, starting with gastronomy, with "Ruta de la Tapa Festera", a festival tapas tour involving 22 of Altea's bars and restaurants; theatre, with performances of Viva mi padre by Lina Morgan, plus arts and crafts, with the newly refurbished Porrat de Sant Miquel market, otherwise known as "Porrataltea".
www.santblai.es