Les Calderes from Almassora, delicious!
Publishing date 19/05/2014
Rice, chicken, ribs, garlic, saffron... this is how Arroz, pollo, costillas, ajos, azafrán… this is how Les Calderes, a stew that was formerly used to feed the needy, was prepared. Nowadays, Les Calderes have become a celebration that delights all visitors at the time of the festivities of Saint Quiteria at Almassora.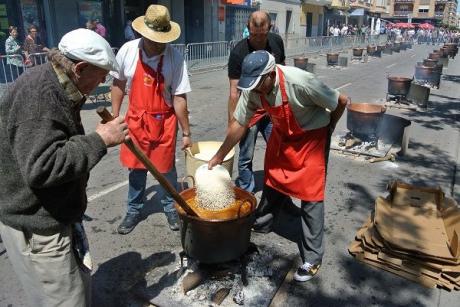 There are festivities in Almassora, and it shows. Les Calderes, a festivity dedicated to Saint Quiteria, is held in the context of these celebrations; in this festivity, a rice stew that is traditionally cooked in twenty-two copper cauldrons is served. Les Calderes originates in the charitable distribution of food to the needy on the day of the main festivity of the town, and it is a representation and identification of the local spirit.
On May 22, the day of the Calderes, dozens of locals will meet up at Pere Cornell square in the morning to place the twenty-two cauldrons. These will be completed by another thirty cauldrons, cooked early in the morning, in the municipal storehouse. After the blessing of the Calderes, they will begin to distribute some eight thousand bowls of stew. It is definitely worth trying!