Almassora holds its "Fiesta de Les Calderes"
Publishing date 20/05/2013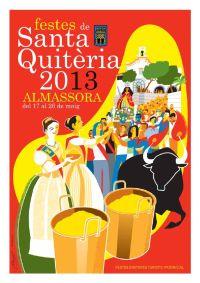 The town of Almassora in Castellón is in a party mood this week. Events include "mascletás" (daytime firework displays), processions, firecrackers, flower offerings, cows in the streets, orchestras and the 14th Festival de Teatro y Animación (theatre and entertainment festival). Events lead up to the big day on 22 May, when hundreds of local residents and visitors spill out into the streets to cook the traditional "calderes" (a local rice dish) in honour of the town's patron saint, Santa Quitèria. The festival has been declared of Provincial Tourist Interest for the quantity of people it attracts to the province of Castellón.
At 8 o'clock in the morning on Wednesday 22 May, over 8,000 handmade earthenware pots are put on the fire to cook the typical rice dish that is both an emblem and symbol of the local community.
Don't miss out, come to Almassora and see its festival at first hand!
See all the information about the festival and the programme on:
More information
Tourist Info Castellón