Christmas season officially opens in Alicante
Publishing date 29/11/2017
The Nativity of Benigembla, Santa Claus house in Alicante or Valencia or Ciutat del Nadal are some of the most immediate proposals which give the starting signal for the Christmas season in the Region of Valencia.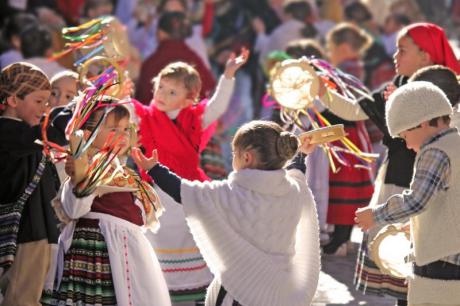 We're almost at Christmas but in some towns and cities in the Region of Valencia the activities to celebrate these festivities begin in the next few days so we are going to detail the most important event in the province of Alicante.
We will start with Casa de Santa Claus in Alicante opening its doors on 6th December and it will remain open until 25th December for young and old to visit Santa Claus in the comfort of his house and enjoy with the activities the elves have prepared.
The House of Santa Claus is in the Parque de la Ereta. This is a little house, adapted and lively, which can be visited during these unforgettable holidays, children can go to tell their wishes to Santa Claus himself. Next to it, you find the Well of the Desires which holds the letters with thousands of illusions in them. Make yours and don't forget to take a photo!
Alcoy Ciutat del Nadal. One more year, you will be able to join in guided tours, workshops, the Fireta of Nadal, Exhibition of Nativity scenes and programme for pastoretes, "día de la burreta", a visit to the Wise Men camp and, of course, the Cabalgata de los Reyes Magos, declared of International Tourist Interest by its magic and beauty. It is one of the oldest in Spain. But without a doubt, Christmas in Alcoy starts with the representations of the play the Belén de Tirisiti, declared Heritage of Cultural Interest. It is a singular piece of popular theatre of puppets of rod retaining the popular flavour of the argument incorporating scenes including aspects of ancient customs in Alcoy.
The Casal de Nadal is a space where you can live the magic show Alcoy displays to celebrate the arrival of Christmas season. Give a look to the program of activities with special attention to workshops talleres infantiles where kids will learn to do small trees to hang on the Christmas tree, to paint bells, figurines for the Creche and the parade of the Reyes Magos, stars, angels, and many other things.
And finally, this year in Benigembla a real artisan Christmas Fair will be organized. All stands are from authentic active artisans and it has a Nativity scene in which Mary and Joseph are no actors, they are artisans themselves. On 8th, 9th and 10th December, it is worth a visit to the village for those people looking for handmade gifts for the upcoming Christmas and Epiphany. Neighbours contribute to the feria with a tavern, Christmas decorations and cake stands and a display of arts and crafts.
Which plan do you join in?