Characters and protests by Miró in the Lonja Exhibiton Hall in Alicante
Publishing date 9/03/2015
Social realism by artist Antoni Miró (Alcoy, 1944) is reflected in the exhibition of the Lonja municipal hall in Alicante titled Mani-festa. Personatges S / T. (Mani-fest. Untitled characters. The 90 pieces of work of this exhibition can be visited during the month of March.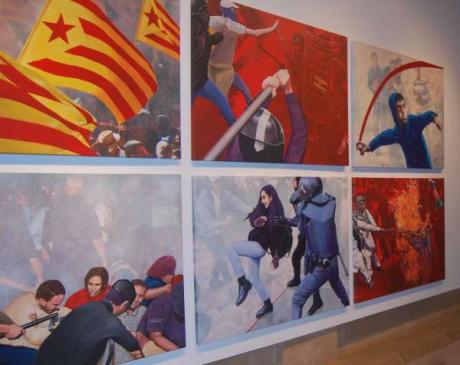 Antoni Miró, one of the most diverse and abundant creators of Valencia, has divided his new collection into two: paintings on protests, demonstrations and assemblies (sixty works), and his series of characters and portraits, (thirty works).

These are new pieces, according to the painter, exposed for the first time, except for one or two pictures. In his remarks, after a tour of the exhibition, and in direct line with his progressive engagement, Miró said on the situation of protests reflected in his collection that "this is not a crisis, this is the big scam. They have ruined people between politicians, bankers and financiers with astronomical salaries, while they reduce to minimum the people's income. If I could put them in jail, I would, but since I cannot, I paint this."

The Mayor of Alicante, Miguel Valor, has emphasized the regular values of the artist, such as social commitment, critical thinking and freedom. Miró is aligned with the underprivileged and denounces the situation of our time.

The paintings are made with acrylic on canvas. Some of them are diptychs and the most common format is 162 x 114 centimeters. Miró has been painting them since 2012. The latter are from this year.

The exhibition will be on display in the municipal hall of the Lonja until the end of March.
Images courtesy of the Department of Culture of Alicante