Discover the icon of the Sierra de Mariola: the Cava Gran de Agres
Publishing date 11/05/2017
The Cava Gran de Agres is a snowfield, a place of perpetual snow that originated in 1773. It is situated at 1,120 metres (3,675 ft) of altitude in the Alicante village of Agres. It is 12 metres (40 ft) deep and 15 metres (50 ft) wide and it is considered the most exceptional example of the ancient snow commerce.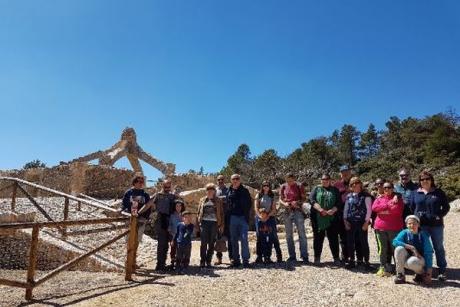 Numerous tanks for snow were built in Spain in the 17th, 18th and 19th centuries. They were aimed for the ice production and commercialisation, a time when it was used for therapeutic, culinary and preservative purposes, among others.

This site of local relevance was fully restored in 2016 and is today one of the best-preserved sites of those located north of the Aitana, Carrasqueta and Mariola mountain ranges. The exterior perimeter of this snowfield is hexagonal and has six stone lancet arches beginning in the inner cylindrical wall, which supported the dome's cover –non-existent today– and finished in a pineapple-shaped keystone. It had a side mouth for the ice extraction and a hole for the snow collection in each side of the hexagon.

Can you imagine going in? It is now possible! You just need to go down some steps in order to go in the Cava Gran de Agres and live a true historical immersion thanks to the explanatory panels that have been installed.

This architectural treasure can be visited until the 21st of May, leaving from the Agres bus stop at 12:00h. For the hiking lovers, the 'A la sombra de las cavas (In the shade of the cellars)' route has a duration of 2:45h and a walk of 7.5km (4.6 miles).