A time-lapse featuring the Prat de Cabanes-Torreblanca wetland
The video tours Prat de Cabanes-Torreblanca, Alcalà de Xivert, Cabanes and Alcossebre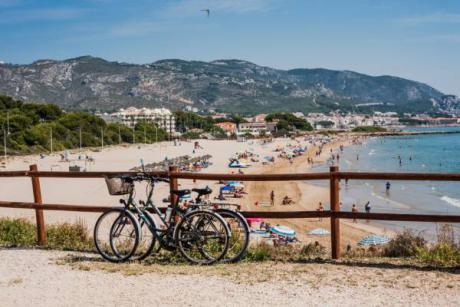 It is impressive to witness the aerial tour that this time-lapse of the spectacular landscape at Prat de Cabanes-Torreblanca Natural Park, a wetland of extraordinary ecological value, takes us on. From the sky, the camera captures the extension of gravel, pebbles and sand deposits that separate the wetland from the sea, its maze-like appearance, the lines that form the paths and the reflection of the water. It is beyond a doubt one of the most beautiful spots on the Castellón coast, where you can also visit several old sentry towers dotting the coastline: Capicorb (Alcalà de Xivert), Torrenostra (Torreblanca) and Torre la Sal (Cabanes).

Images of lively Torreblanca beach reel by, quickly giving way to the town of Alcalà de Xivert and its majestic bell tower, looming impressively in the heart of the historic district. Xivert Templar Castle, declared an Asset of Cultural Interest, is located high in the Serra d´Irta mountains, a vantage point from which it overlooks the plain and the sea, in contrast with the natural setting.

The time-lapse then passes through the Roman arch of Cabanes, the symbol of a town founded in Roman times as a leisure villa on the Via Augusta named Ildum. The tour ends on the ten kilometers of beaches and coves in Alcossebre seen from the marvelous lookouts provided by the mountains.


Disfruta del Time-lapse