Oranges from Burriana, more than just juice
Publishing date 3/02/2014
Oranges and tangerines, the winter fruits par excellence, are at the heart of a series of gastronomic sessions held from February 3 to 16 in Burriana. Come and enjoy the best cooking based on oranges from Burriana, while tasting fish, seafood, salads and, of course, sweets. A selection of ten delicious menus awaits you.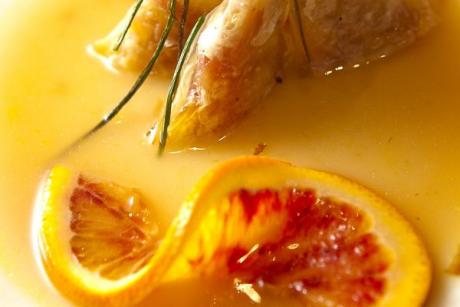 Over the course of two weeks, from February 3 to 16, you will to be able to enjoy different menus based on oranges in ten local restaurants. After all, these sessions are a part of the yearly homage paid by the best chefs in Burriana to its stellar product: oranges.

Oranges from Burriana are a fruit linked to the town, to its history and its economy, as it is shown by the beautiful modernist houses decorated with agrarian motifs, especially oranges and tangerines, which constitute a good deal of the charm of the town centre.

The different varieties of oranges become the star ingredient of the cooking in Burriana over the course of these days, uniting their flavour and properties with those of other products that are typical of Valencian coastal towns, such as rice, fish and seafood.

The menus are reasonably priced set menus that range from 9 to 25 euros, with elaborate creations that will delight guests with spectacular dishes. The following restaurants participate in this edition: Pinocchio, Brisamar II, Casino Caixa Rural, Hotel Aloha, El Frau, Cafetería-Restaurante Mestral, Scala, Savarin and Marcafé.

These sessions find their continuity in Moncofa and Xilxes from February 17 to March 9, and in Almenara and la Llosa from March 10 to 30.