La Plana Baixa cooks a l'orange
Publishing date 25/01/2017
Almenara, Burriana, La Llosa, Moncofa and Nules offer menus featuring oranges and clementines from January 20 to February 5.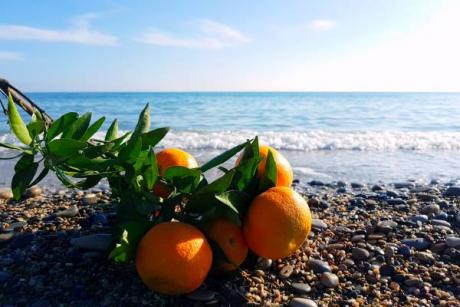 The 4th Orange and Clementine Days are here. 29 restaurants in the Castellón towns of Almenara, Burriana, La Llosa, Moncofa and Nules have prepared special menus featuring dishes in which oranges and clementines take center stage. From January 20 to February 5, let yourself be seduced by the tart freshness and activities in these towns in Plana Baixa county, very well known for producing excellent oranges and clementines.

Here are just a few of the dishes you can enjoy: lamb stuffed with mandarin oranges; sea bass with sweet potato; orange and citrus caviar; tempered tomato timballo, red onion and blue whiting flakes with bittersweet Navelate orange vinaigrette; orange aioli-infused mussels stuffed with seafood; cod brandade cannelloni with orange béchamel; chocolate bizcocho with candied orange and black sesame ice cream; mandarin orange tiramisu and vanilla, chocolate and clementine ice cream sandwich.

And don't forget to visit places of interest in these towns where you can stroll along seaside promenades, discover Mascarell and the Roman villa of Benicató in Nules, the historic quarter in Burriana and Almenara castle. You can also enjoy nature in l'Estany de Nules, Los Estanys de Almenara and El Clot de la Mare de Déu in Burriana.