Fiestas del arroz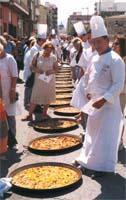 The town known as the 'town of Spain rice' dedicates the month of September to honor the culture that is the foundation of the local economy. Thus, the feast of rice reaches its peak with the international contest of paellas, listed as one of the leading cooking demonstrations in the country. After enjoying paella, the main streets of the town host the parade of rice, where monumental floats, marching bands, and different groups of traditional dances are involved. The day is completed with the offering of rice that exalts the main crop of Sueca.
Details:

Town: Sueca
Start date: 01/09/2016
End date: 15/09/2016
Variable. Celebración durante el mes de septiembre.