Fiestas de la asunción de la Virgen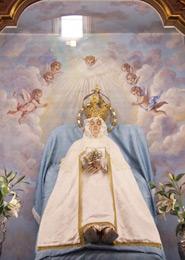 Known as the "Festival of vacationers", since it is the summer residents who, combined in a brotherhood, perform religious and popular events. Highlighted in the program of events around the Virgin of the Assumption are the offering carnations, singing of "tuna" songs, and solemn Mass and procession.
Details:

Town: Siete Aguas
Start date: 11/08/2016
End date: 18/08/2016
Semana de la festividad de la Virgen de agosto.