Festividad del Cristo de los Afligidos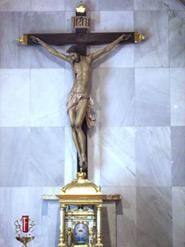 Tradition says that the celebration of the Christ of the Afflicted festival is moved each day to a different area of ​​the town of Siete Aguas. So, on day 3 a procession is done up to the area of ​​'El Cerrito', where attendees participate in an outdoor dining which is followed by an open-air ball. The same program of events continues on day 4 in the area of ​​'El Barrio del Candil' and on day 5 in 'El Arrabal' and adjacent area. The finale comes on day 6, with the Solemn Feast of the Most Holy Christ of the Afflicted. This day, a holy Mass, one firecracker show, a procession through the old town, and a dinner for all the inhabitants of the village in the Constitution Square, the main square in town, are celebrated, which is followed by an open-air dance. Apart from these events, each year, the "Clavarios" usually organize children games competitions and cultural activities. They are considered the biggest festivities in town.
Details:

Town: Siete Aguas
Start date: 31/07/2016
End date: 05/08/2016
Día 6 fiesta laboral local.