Costa de Valencia, escuela de español
Costa de Valencia Escuela de Español, is an academy dedicated to teaching Spanish since 1995. It is situated right in Valencia's university area.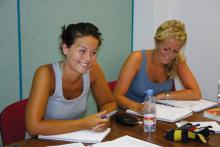 Address
Avda. Blasco Ibañez, 66
Phone numbers:
Fax:+34 963 936 049
Certifications:
Students who have completed a course will receive a certificate, and those who have passed an exam will receive a diploma.
- Instituto Cervantes (Spain)
- Bildungsurlaub (Germany)
- CSN (Sweden)
- FEDELE (Spain)
- AMEELE (Spain)