Semana Santa de Alzira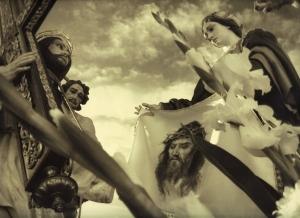 With the arrival of spring, day and night become equal. The light continues gaining ground on its slow progression and the Earth already shows its first fruits. It is time for tributes for the coming of good weather and spells for its continuity. Easter shall mark, with its pilgrimages and trips to the fields, the most colourful season of the year.
The oldest news of Easter celebrations in Alzira by brotherhoods are documented in the Municipal Archives since 1539, and refer to the Brotherhood of the Precious Blood of Jesus Christ, or of the Solitude.
The brothers in town, totalling over 7,000, are grouped into 18 brotherhoods, with 25 procession floats maintaining a largely uniform and post-war aesthetics. The Holy Cross float represents Alzira by means of the Board of brotherhoods and the Older "Clavarios" of the town. At present, the dimension of the celebrations transcends the town, as witnessed by the recognition that led in 1988 to the declaration of National Tourist Interest. The proclamation, the "Nit de les Miradetes", the Transfers and Via-Crucis, or the Exposure of the floats in their canopies (ornaments of the images of the Passion full of imagination and art whose origins date back to the seventeenth century) are some of the events of the Holy Week which stand out.
Another feature are the general processions, bringing together all the brothers: the Palm; the Silence; and the Holy Burial, where the 24 existing chronological floats represent the Passion, which is seen by more than 40,000 people, to whom penitents give away candies and sweets. In addition, you can enjoy the Tamborada (drum jam), where musicians of all ages provide sound to the festivity at the touch of drums and cymbals. The Tamborada has been declared a Good of Intangible Cultural Interest.
We recommend you not to miss: the Dossels (canopies), the Tamborada (drum jam), and the Holy Burial Procession.
Know more: http://www.semanasanta-alzira.com/
Details:

Type: Interés turístico nacional
Town: Alzira
Start date: 20/03/2016
End date: 27/03/2016