Las Fallas en Alzira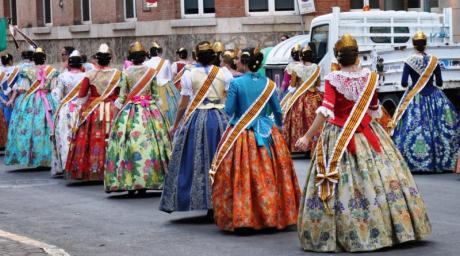 With the arrival of spring, you can feel the magic of Fallas, when the bright daylight follows the bright lights of the night, always with the continuous roar of the morning 'despertaes' (waking up parades), vibrant 'mascletaes' (firework contests) at noon, or the 'multicolour fireworks' by night, bound without interruption by firecrackers exploding in every corner of the city. The surprising flashes of dazzling gold sequined combs wore by the ladies, their colourful costumes rocked by their rides, parades or frantic dances following the infectious beat of lively music bands. You can breathe an environment always permeated by the smell of burnt gunpowder, appetizing fritters or the tasty Valencian rice. These are days to admire the artistic effigies that are offered as a sacrifice to the purifying fire.
The festival of Fallas in the town of Alzira is organized by 35 committees and over 5,000 participants, as well as 70 large and small effigies (fallas). We recommend not missing the effigies awarded, the contest of fireworks, and the Offering.
Know more: http://www.fallasalzira.com/
Details:

Type: Interés turístico internacional
Town: Alzira
Start date: 15/03/2016
End date: 19/03/2016