Moors and Christians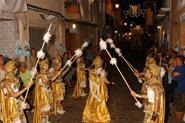 Serra has Arab roots and also holds at great Moors and Christian's parade that goes through the town's main streets towards the Tower del Señor de la Villa. There, the final battle takes place and the Christian band takes over the tower. During this week, different parades, paella contests, open air concerts, etc. are held.
Details:

Town: Serra
Start date: 06/08/2016
End date: 06/08/2016
Variable. Se celebra el primer sábado después del día 2 de agosto.