The Cherry festivity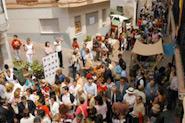 The town's agricultural tradition is kept alive with the celebration of the Festivities of the Cherry Day, in which the visitors can try this fruit. The Queen of the celebrations and her Court of honour, dressed up with the traditional dress, hand out to the visitors, small fruit baskets. Parallel to this event, a Gastronomy Fair is installed offering the region's typical products such as Orelletes and sausages. All these events take place to the tune of the Musical Society and the Tabalet and Dolçaina group's melodies. The Cherry Festivity is one of the most outstanding celebrations in the region and hundreds of visitors come each year. In this weekend, a Medieval Fair called La Feria de la Calderona takes place. In this event, the different towns form the Calderona Mountains put out their stands. There are also exhibitions of the different trade associations such as the picapedrers, aiguaders, bobbin makers, etc.
Details:

Town: Serra
Start date: 20/06/2016
End date: 21/06/2016
Fecha variable.