Patron Saint festivities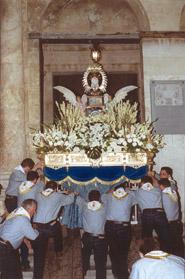 The patron celebrations are a prelude to the festivities that commence with the arrival of the bulls and horses, which takes place on the second day. The emotion packed days that follow include the presentation of the queen of the festivities, the floral offer to Nuestra Señora de la Cueva Santa or the Romeria procession to the chapel of Hope.
Details:

Type: Interés turístico nacional
Town: Segorbe
Start date: 27/08/2016
End date: 11/09/2016
Último fin de semana de agosto y primera semana de septiembre.