The patron saints festivities in honour of the holy martyrs Abdón and Senén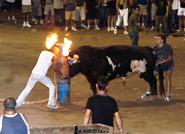 The Patron Saints festivities are organised in two fundamental aspects. One part, the religious acts, is composed of the procession in honour the Patron Saint, the offerings and the Eucharist. The other part is made up of the sounds of the festivities from the diverse dances and the pyrotechnic acts. The Patron Saints festivities are celebrated, with bullfights, cow and bull running, along with sporting events, musical acts, fireworks, group concentrations at the town hall, "tró d'avís" and the traditional "chopá", a disco and a feast of the typical stew.
Details:

Town: Sagunt/Sagunto
Start date: 17/07/2016
End date: 31/07/2016
Día 30 fiesta laboral local.