From Requena to Ayora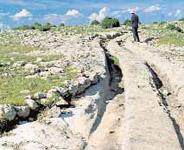 The Utiel-Requena plain is the most extensive plain in Valencia. This is a wide open area of fertile soil, which was deposited during the Quaternary and Tertiary periods, and alluvial deposits. Much of the land here is dominated by the cultivation of grapevines that still sets the yearly rhythm of this rural spot. Although the majority of the landscape is flat, there are still a few surprises in store, such as the snake-like path that the the crystal clear waters of the River Cabriel follows. You will be delighted by the Cuchillos ravines of this beautiful, winding river, and by the unusual landscape at the Vadocañas bridge, which is situated in what has recently been declared a nature park - El Parque Natural de las Hoces del Cabriel. Further on, your journey takes you to the valley of Ayora-Cofrentes. This is where the River Cabriel meets the River Júcar.You will go upriver along the River Júcar through a narrow pass formed by vertical cliff faces.

You will also come across unirrigated rural land where grains, grapevines, olive, carob and almond trees are cultivated. This really is an idyllic place to visit. There are also caves to be found here, including La Hunde, El Moragete and Don Juan. If you are interested in archaeology, you will find plenty of sites of interest here.
Route: From Requena to Ayora, via Utiel, Caudete de las Fuentes, Villargordo del Cabriel, Venta del Moro, Cofrentes, Jalance, Jarafuel and Zarra
Cities nearby:
Requena