La Marquesa Golf

The course is located in a level valley with a mountainous backdrop, and enjoys a unique microclimate allowing for year-round play.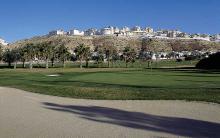 In the past 20 years the surrounding area has undergone major demographic growth, and the various types of buildings and developments are visible most of the way round this urban course, which has excellent amenities.
The 18 holes are played comfortably, with no hilly terrain, and short distances from greens to the next tee. Long and short holes combine well, providing chances for recovery, particularly when your card is showing more strokes than you would like. La Marquesa is an ideal course for people of all ages, one that should be enjoyed on foot to get the most out of your round, particularly when faced with a blind shot.
They are the kinds of shots that are daunting at first, but immensely satisfying when you connect well.



Features:

Designer of the field: Justo Quesada
Type of grass: Fairway: Bermuda. Green: agrostis stolonifera penncross
Route:

Take exit 740 of the AP-7 motorway, between Alicante and Cartagena, towards Rojales.
Closest airport:
El Altet (Alicante), 40 km. San Javier (Murcia), 40 km
Rates and opening times:

Holes: 18
Bunkers: Sí
Opening times: De 08.00 a 20.00 horas
Green fees: Temporada baja (del 16 de mayo al 15 de septiembre): 18 hoyos, 35 €; nueve hoyos, 22 €. Temporada media (del 1 de enero al 28 de febrero y del 1 al 31 de diciembre): 18 hoyos hasta las 13.30 h, 42 €; 18 hoyos a partir de las 12.30 horas, 39 €; nueve hoyos hasta las 13.30 h, 25 €; nueve hoyos a partir de las 12.30 horas, 23 €. Temporada alta (del 1 de marzo al 15 de abril y del 16 de septiembre al 30 de noviembre): 18 hoyos hasta las 12.30 h, 53 €; 18 hoyos a partir de las 12.30 h, 42 €; 18 hoyos fin de semana, 38 €; nueve hoyos desde las 08.00 a las 09.30 horas o desde las 14.00 h, 27 €.
Putting Green: Sí
Services Club:

Practice range: 16 puestos
Chipping area: Sí