Festivities in Honour of the Santísimo Cristo de la Fé and San Vicente Ferrer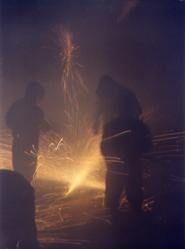 The main festivities in Paterna have three clearly differentiated sides: one is the devotion to Christ, demonstrated in the religious acts, another, is the love of fireworks and the other is the passion for Moors and Christian parades, considered to be the most important in the Valencian region. The most distinguished act from the celebrations is the traditional "cordà", celebrated in the Main road of the municipality. In little less than 30 minutes, more than 50.000 rockets go off at a pace of 1500 per minute, in what amounts to be an incomparable spectacle of fire, colour and noise. During the festive period, the Council constructs a "cohetódromo" for firework throwing demonstrations. This favours the enjoyment of everyone that that wants to observe this wonderful spectacle in a sure and safe manner. Those who visit Paterna on these dates will be able to observe these parades, which transform the streets into a burst of light, colour and music.
Details:

Type: Interés turístico autonómico
Town: Paterna
Start date: 18/08/2016
End date: 29/08/2016
La Cordà de Paterna se celebra desde siempre el último domingo de agosto tal y como marca la tradición en la Calle Mayor de Paterna. El visitante podrá disfrutar no obstante de exhibiciones en el Cohetódromo de Paterna sin peligro alguno durante las fiestas.