Moors and Christians festival in Ontinyent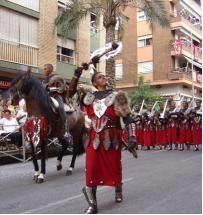 The Moors and Christians festival in Ontinyent is deemed to be of national tourist interest. The taking of Tetuán by Spanish troops and the gratitude displayed to the image of the Santísimo Cristo de la Agonía (Holy Christ of Agony) led to the birth of the Moors and Christians festival in the town of Ontinyent in 1860. The festivities begin on the third Sunday in August, with mass said at the doors of the hermitage of Santa Ana, which is the religious preamble to the explosion that is the recreation of the battle itself. One of the highlights of the festive acts, which reach their maximum splendour between the Thursday and the Monday of the fourth week in the month, is the arrival of the Moors and Christians. The Christian army arrives in Ontinyent in the afternoon led by its captain and processional group to the rhythm of Christian marches and pasodobles. As night falls, the army of the crescent moon takes over the streets and avenues, showing off their luxurious dress uniforms, horses, camels, and dances.
Another of the most spectacular moments of the festival is the Bajada del Cristo de la Agonía (Descent of the Christ of Agony), the Moors emerging from the old Paseo de Sant Antoni and the Christians marching down the hill of Santa Ana, sound their blunderbuses, harquebuses and muskets. On Monday, Ontinyent is woken up with a bang, as the Moorish army shoots its way towards the castle to lay siege to it, through a thunderous battle. The point that marks the end of an intense and exhausting five days of festivities is the final parade, with processions led by their captains, flag-bearers, ambassadors and their convoys, followed by the twelve Moorish and twelve Christian processional groups.
Start date: 3rd Sunday in August
End date: 4th Sunday in August
Details:

Type: Interés turístico nacional
Town: Ontinyent
Start date: 21/08/2016
End date: 28/08/2016
Del tercer al cuarto domingo de agosto