Festivities in honour of Santiago Apóstol with Moors and Christians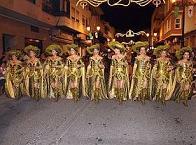 The Proclamation or "Pregón" marks the beginning of the celebrations, which are followed by the representation of the legend of "l'encantà", a spectacle of light, water and fire with origins in the figure of the Dama of Guardamar, an Iberian sculpture from IV century B.C.
The first days of the festivities are centre around the "barraca popular", sporting contests and bullfighting spectacles. Afterwards are programmed the proper acts of Moors and Christians.
The festivities finish with the general parade in which they present their best gowns in order to interpret dances, sword fights, with horses and coaches.
Details:

Town: Guardamar del Segura
Start date: 16/07/2010
End date: 25/07/2010

Desfiles principales: 24 y 25 de julio.