Marina Alta by Bocopa winery
The White wine of the Mediterranean
Bocopa´s Marina Alta is a classic white among the wines of Alicante and a model example of one of the most respected grape varieties: the Muscat of Alexandria. The selection, the level of maturation and the carefully controlled fermentation mean that the freshness, aroma and flavour of Marina Alta leave an unforgettable mark on the palate. In fact, over a dozen prizes and awards, such as the Gold Medal in the 2014 Brussels International Wine Contest, serve to endorse the quality of this prestigious Alicante wine. The most prolific Spanish critic, José Peñín, claims that Marina Alta is possibly the best dry Muscat in Spain.
Since 1987, Bocopa winery has been producing wines on a neverending quest for quality. With seven associated wineries, Bocopa knows how to take advantage of the gift that the Mediterranean soil provides, a territory of 2,500 hectares of clay and calcareous soil with a generous climate, saturated in energy and vitality for production. In fact, Bocopa produces its wines from grape varieties which are intimately linked to the Mediterranean. Some examples would be (Monastrell in Catalan), a true representation of Mediterranean wine; the distinctive Muscat of Alexandria and the popular Tempranillo, Cabernet Sauvignon, Chardonnay, Syrah, Merlot and Petit Verdot.
In addition to the award-winning Marina Alta, Bocopa winery also markets wines such as Laudum, Alcanta, Alone, Cotos de Alicante, Don Mantillón, the ecological wines Castillo de Alicante and Laudum Natura, Marina Espumante, Marqués de Alicante, Mosaico Imperial, Sol de Alicante, Terreta Rosé and Vinicantil thanks to a constant commitment which has enabled all of its wines to achieve the highest quality categories at international level.
Full bottle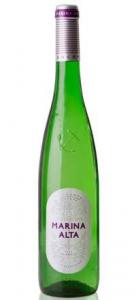 Wine label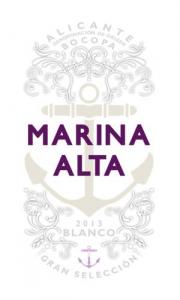 Winery data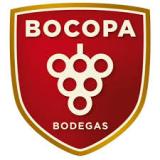 Bodegas Bocopa
Paraje Les Pedreres Autovía A-31 km.200-201 Salida Elda-Hospital 03610
Phones:
- Tel. +34 966 950 489
- Tel. +34 966 950 406
Technical data
- Designation of origin: Alicante.
- Wine type: Young white wine
- Variety: Muscat of Alexandria
- Alcohol content: 11%.
Organoleptic data
- Aspect: Clean and bright
- Colour: Very pale, crystalline, bright.
- Nose: Powerful, fruity and aromatic, fully expressing the Muscatel variety, with overtones of Alsatian Muscat. The nose is intense, fine and elegant.
- Mouth: Ample, very smooth and dry with overtones of anise and fennel and good balance of acidity and sugars.
- Aftertaste: Aromatic and fruity, typical of the Muscat.
- Temperature: Serve very cold.
- Pairing: Paring suggestion: It is a perfect companion for paellas, seafood, rice and pasta. It is also ideal as an aperitif at any time.
Recetas relacionadas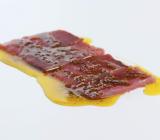 Put a layer of salt and another sugar in a bowl. Place tuna piece above and cover it with another layer of sugar and another of salt. Marinate a few hours. Wash the tuna, dry it with a soft cloth and...