La Perdición 2012
Between love and passion
From the splendid cellar of the Maria de Luna restaurant, which of course lives up to what is expected, Javier Simón suggests combining this menu with La Perdición 2012, from the Divinos & viñas winery.
Divinos & viñas conceives its wines passionately, gestates them lovingly and brings them to life eagerly. That's the feel of the wines elaborated each vintage, unique and singular, just like the unique conditions of the vineyard each season, and the inimitable nature of each single year. La Perdición 2012 is the clear proof of that passion.
La Perdición 2012 is cold macerated for 12 hours after the manual selection of bunches before the de-stemming. The controlled alcoholic fermentation is carried out at 18° C in stainless steel tanks, and then the malolactic fermentation takes place in barrels, with its 12 months aging in French oak barrels. The natural cork stopper comes from the Sierra de Espadán. The label of La Perdición 2012 is the work of Jaime Giménez de Haro.
Full bottle

Wine label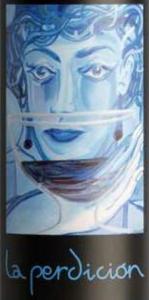 Winery data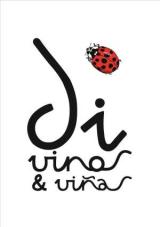 Bodega Divinos&viñas
Calle General Calvo Lucía, 5
Phones:
- Tel. +34 629 282 758
- Tel. +34 651 552 034
Technical data
- Designation of origin: IGP Castelló
- Wine type: red wine
- Variety: Ull de Llebre, Merlot and Trepat.
- Alcohol content: 14,5%
Organoleptic data
- Aspect: Bright and full bodied.
- Colour: Red Bordeaux with a garnet rim, intense, glyceric, and with a tear that carries a good deal of colour.
- Nose: Fruit in perfect balance with balsamic and smoky notes. The red and black fruits are complemented by notes of cocoa and minerals resulting from the time in the barrels.
- Mouth: Fleshy and well structured, full bodied. Warm enter and balanced acidity, tannins present and pleasant.
- Aftertaste: Long and fruity aftertaste by retro-nasal, with balsamic sensations and so seductive tertiary aromas.
- Temperature: 16º-18º
- Pairing: Rice, pasta, meat and fish. This is a wine with almost unlimited combining possibilities.
Recetas relacionadas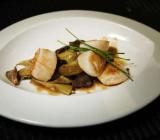 Peel and chop the artichoke into sixths. Put a saucepan with olive oil and introduce artichokes, until covered. Let glaze until soft, about 20 minutes, and cut. Prepare the dressing using equal parts...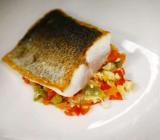 For preperaing the Romesco sauce, grill the vegetables and peel them, then crush them together with the nuts, emulsify with 600 ml. olive oil and 50 ml. vinegar, salt to taste and set aside. Dice the...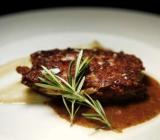 First, chop the pork and put it on ration vacuum bags with oil and salt to bake in the oven with 100% steam at 70 degrees for 24 hours. Then, open the bags and reserve on the cold room. Peel and chop...