Marina d'Or Servicios de Playa, S.L.
Clubs náuticos y puertos deportivos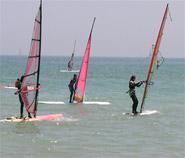 Marina d'Or Servicios de Playa, operate all year round, providing courses in light sailing, canoeing, windsurfing and many other sporting and leisure activities. A team of experienced professionals give the courses, and they have a fleet of craft such as catamarans, and safety launches with everything you need to carry out these activities. The centre also offers cruise sailing services, a light sailing school, catamaran, windsurfing, canoeing, pedaloes and a nautical multi-adventure program with a range of activities.