La Illeta dels Banyets
Beaches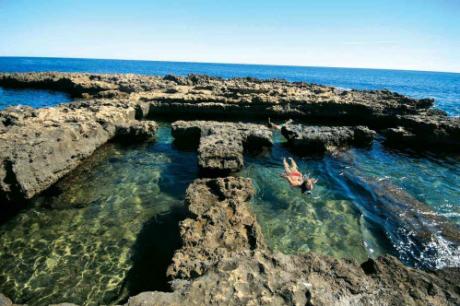 The swimming area located around the "La Illeta dels Banyets" archaeological site is known as the Illeta dels Banyets beach, and consists of a rocky platform and a small stone cove forming an artificial link between the site and the mainland. It is a perfect place for diving.
Highlight: La Bassa de la Reina
La Bassa de la Reina (the Queen's pool) is located behind the Club Náutico, next to the La Illeta dels Banyets archaeological site. This rocky platform is wreathed in legend; according to local tradition it was once the swimming pool of a Muslim queen, in the times of Muslim rule. However, in reality it was a Roman fish farm, which nowadays offers the delights of clean and crystalline waters.
The site also boasts a Snorkel Route, Los Baños de la Reina, suitable for everybody who likes diving and learning about our marine flora.
Getting there:
By Tram: Stop - El Campello-Poble Espanyol
By Bus C-53 (From Sant Joan d´Alacant): Stop - C/ San Bartolomé (edf. Mistral)
By Bus C-2 (From Barrio Bonny): Stop - C/ San Bartolomé , 172
Services:
Stones (in creek) and rock (in archeological site)
Cove
Car park
Bus stop
Tram stop
Hotels
Restaurants
Water sports
* Beach not controlled by the Ministry of Environment