Moors and Christians in honour of the Mare de Déu dels Desemparats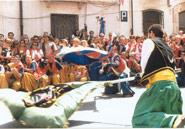 There are many fiestas held in the city of Muro de Alcoy, but one stands out in particular for its historic value: the Moors and Christians Fiesta in honour of the Virgin of the Defenceless, which goes back to 1857.
This patron saint feast day is celebrated every year on the second weekend of May. During this fiesta the groups parade, magnificent and cheerful, to the rhythm of pasodobles and Moorish marches.
Details:

Town: Muro de Alcoy
Start date: 12/05/2017
End date: 16/05/2017
Segundo fin de semana de mayo