Moors and Christian Festivity in Honour of San Hipolito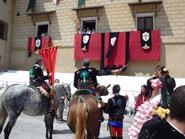 The town's patron saint, San Hipólito, is the main character of Concentaina's Moors and Christians festivity. The celebrations have been taking place since the 18th century. Sixteen filaes (lines) or groups colourfully fill the town streets. Along with them, music bands and many people take part in various events, such as the weapon presentation, the tomato and smuggling embassies the flower offering to the patron saint. The program ends with open –air shows and other fun activities. These festivities, declared "of tourist interest" offer ornamental richness, music, colour and fun.
Details:

Town: Cocentaina
Start date: 11/08/2017
End date: 14/08/2017
Las Fiestas se celebran siempre el segundo fin de semana de agosto, de viernes a lunes. El sábado es el día de la 'Entrada'.