Moors And Christians festivities in honour of the patron Saint Nuestra Señora de Gracia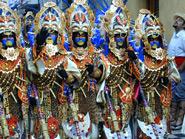 Briar is a town of many traditions and deeply rooted customs that are present in various annual celebrations, most notably in the oldest Moors and Christian festivity in the Valencian Levant region.

The Moors and Christians Patron Saint celebration, which runs from May 10th to the 13th, is an integral part of the history of the town, celebrating the battles between the Almohads and King James I, The Conqueror, whose troops conquered Biar for the Crown of Aragon in 1245, thus establishing the frontier between the kingdoms of Aragon and Castile. The highpoint of the festivity takes place on May 10th, when hundreds of bonfires are set ablaze in the mountains that surround the town. The statue of the Virgin is borne down from its shrine during the Bajada de la Virgen. On May 11th, the Ball dels Espíes is held, depicting the moment when the Almohads in disguise ambushed the Christians.
Details:

Town: Biar
Start date: 10/05/2017
End date: 13/05/2017