Festivity of the Cholera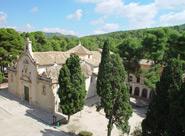 In honour of the Mare de Déu de Gràcia. The town shows its gratitude for its deliverance from the cholera epidemic. The statue of the Virgin is borne from its shrine to the local church where it remains for the duration of the celebration.

On the 13th the statue is returned to its shrine. Holy mass is celebrated, as are several sporting events and a dance at the end of the day.
Details:

Town: Biar
Start date: 13/07/2017
End date: 13/07/2017