Procession of Xiulitets and La Gloria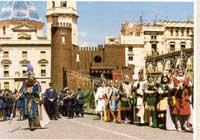 The procession del encuentro or dels xiulitets, the proclamation, and entraeta del berenar are the acts that attract the highest levels of participation during Holy Week.

At 10:00 a.m. on this day Gloria festivities are celebrated, a festival where a person from each of the 14 Moor and Christian filaes (rows) parades wearing his/her filà dress. At 14:00 p.m. the Mascletà (intensely loud daylight fireworks display) is carried out.
Details:

Town: Alcoi/Alcoy
Start date: 16/04/2017
End date: 16/04/2017
Domingo de Resurrección, variable según calendario