Festivities of the Forgiveness of Christ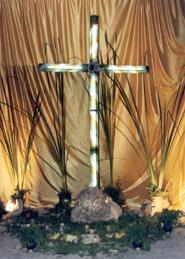 These festivities, also known as Las Cruces (The Crosses), with the celebration of La Enramá, are the most characteristic festivities of Chulilla, thanks to tradition and popular support.
To celebrate this festivity, a number of crosses are installed on every street of the town. These crosses are designed and decorated by the citizens of Chulilla themselves, and entail the commonly shared contributions of ideas, work and illusion. The Crosses can be created using any kind of material; in addition, entire avenues and streets are also decorated, endowing Chulilla with a special grace over the weekend these festivities are celebrated. The Crosses's Plantà marks the beginning of the festivities. Festive events are programmed through the whole weekend, for example, festivals, popular feasts and displays of fireworks. The religious nature of these festivities is present in the celebration of events such as the Devotion to Christ (which is held during three days), the procession of Saturday night, which is held throughout the oldest streets of the municipality or the Saturday morning mass.
Details:

Town: Chulilla
Fin de semana más próximo al 15 de septiembre