El Bosque

Robert Trent Jones, Sr. created a magnificent green island in an area lacking in vegetation, creating and breathing life into one of Europe's finest golf courses.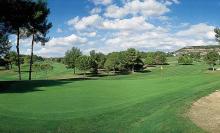 The course is built into the slopes of a huge valley, and is dominated by the hilly terrain that can create problems for players. The design makes spectacular use of the location and the lie of the land, including gorges, lakes and a small river that gurgles merrily along in spring and autumn. This is a very dynamic course, full of ups and downs, so your stance will vary noticeably from shot to shot, requiring good concentration and calm analysis for each stroke.
The various water hazards add a sense of grandeur to the course, and the 96 bunkers, strategically placed to catch drives and approach shots, add extra difficulty from tee to green on each hole.
Features:

Designer of the field: Robert Trent Jones Sr.
Type of grass: Fairway: agrostis, festuca and raygrass. Green: penncross
Route:

Take the A-3 and take exit 337 towards Godelleta. Turn left at Urbanización El Bosque
Closest airport:
Manises (Valencia) 25 km.
Rates and opening times:

Holes: 18
Bunkers: 2
Opening times: De 08:00 a 20:30 h. (25/12 y 01/01, cerrado)
Green fees: 18 hoyos, 85 € (acompañante de socio 40 €). 9 hoyos, 45 € (acompañante de socio 30 €).
Putting Green: 2
Credit cards: Visa, Mastercard, American Express
Services Club:

Rental carts: Manual, 3 €; eléctrico, 10 €
Clubs: 15 € (set completo)
Practice range: 35 puestos (dos niveles)
Chipping area: 2