Pitch and Putt Masía de las Estrellas

This is a demanding and technical course, but one with great charm. The designers sought to challenge players with low handicaps while allowing golfers with higher handicaps to enjoy their round.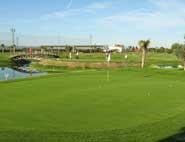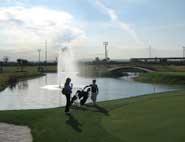 It is a combination that works well. An added degree of difficulty lies in where the flags are placed and the range of possibilities on each green. Located between orange groves and urban buildings, this is a nine-hole course with double tees prepared for high-level competition, but also designed as a course for players who are starting out and learning the game of golf.
Olive trees, bushes and palm trees form part of the greenery, and were chosen or retained because of their low water consumption and attractive appearance. The large lake in the middle of the course is both a spectacular centrepiece and an added challenge to your round, as well as storing and supplying rainwater, which is constantly being recycled.
Features:

Designer of the field: Octavi Creus
Type of grass: Greens: Agrostis Stolonifera. Antegreens: Ray-Grass. Rouge: Bermuda
Route:

Motorway Torrent. Exit Albal - Torrent. Second exit from CV33, Catarroja - Paiporta. 10 minutes from Valencia.
Closest airport:
Manises (Valencia) a 40 minutos
Rates and opening times:

Holes: 9
Opening times: Horario de invierno: viernes, de 8.30 a 20.30 horas; de sábado a jueves, de 8.30 a 18.00 horas. Horario de verano: de lunes a domingo, de 8.30 a 20.30 horas.
Green fees: De lunes a domingo, 18 €
Putting Green: 1
Credit cards: Visa, Master card, American Express
Services Club:

Pitch and putt: Sí
Practice range: 1