Estación Náutica Benicarló-Peñíscola
Clubs náuticos y puertos deportivos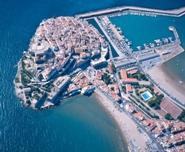 Get ready to practise your favourite water sports under the watchful eye of Peñíscola Castle, in a unique setting of sandy beaches, nature parks and marine reserves on Castellón's Costa Azahar.All this and much more awaits you at Benicarló – Peñíscola Marine Resort, open 365 days a year to show you everything you need to know about water sports.Expert instructors are on hand to help you perfect your sailing, rowing and power boating skills and enjoy a huge range of parallel activities as part of a holiday programme tailored to suit your needs and preferences.

The Benicarló – Peñíscola Marine Resort offers you the chance to tour the Costa Azahar and explore its excellent beaches while you have fun trying out a variety of marine sports, includingsailing, water scooters, diving, canoeing, ski bus, windsurfing and kayaking.Taking a cruise or going fishing are other alternatives designed just for you to combine with an enticing array of parallel activities, such as horse-riding, spa sessions, walking and golf.

Just a few steps away from the new and modern Benicarló Yachting Marina, you can put together your own individual holiday thanks to a great range of hotels, apartments, campsites and complementary services, all delivered to the same excellent standard.More than 7 kilometres of lively activities for tourists are on offer along the beautiful seafront promenade stretching between the towns of Benicarló and Peñíscola, both of which are fantastic places to eat rice, seafood and other essential dishes in the Mediterranean repertoire.Let yourself be carried away by your love of the sea, flanked by cliffs, beaches, wetlands and magical havens like Islas Columbretes National Park.Come and have the holiday of your dreams at Benicarló – Peñíscola Marine Resort.
Address:

Explanada del Puerto, s/n
Phone: +34 964 465 206