Club de Campo del Mediterráneo
One of the leading golf clubs in the Region of Valencia, the Mediterráneo Country Club has gained international renown as the course where one of the world's top players, Sergio García, learned to play golf.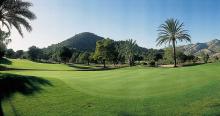 This golf club creates an added incentive for amateur players, as they may be lucky enough to coincide with one of Sergio's training sessions. The course has hosted national and international amateur and professional championships, including the Castelló Masters, the OKI Castellón Open España on the Senior Tour, the Ladies European Tour and 4 Tours, which marks the end of the season for Spanish golf.
When the Australian Greg Norman, golf's 'Great White Shark' and winner of the 1986 and 1993 British Open, played the course in October 2006 during the OKI Castellón Open España Senior championship, he said it was a course that "makes you think. There are blind shots. It's a unique layout. You really have to know where you want to go". The course makes for a comfortable round of golf, with areas of natural shade provided by the abundant Mediterranean woodland.
There are thousands of trees around the course, including 'La Mare de Déu' or Mother of God carob tree, which lends its name to the 4th hole, a 530-metre par 5, as it stands in the middle of the fairway, making approach shots to the green somewhat tricky.
Features:

Designer of the field: Ramón Espinosa
Type of grass: Fairway: raygrass, festuca, agrostis. Green: raygrass, festuca, agrostis.
Address:

Urbanización La Coma, s/n
CP: 12190
Phone: +34 964 321 227
Fax: +34 964 657 734
Email: club@ccmediterraneo.com
Route:

Take the AP-7 motorway. Take the Castellón Norte (north) exit, towards Castellón. The road for reaching the club is 700 m, on the right. By the CV-10, take North Borriol exit (exit 28) direction to la Comma.
Closest airport:
Castellón, 25 km. Manises (Valencia), 70 km
Rates and opening times:

Holes: 18
Bunkers: Sí
Opening times: Horario actividad deportiva, de 8.00 a 21.30 horas. Horario instalación, de 8.00 a 22.00 horas. Cerrado, 25 de diciembre y 1 de enero, resto del año abierto
Green fees: Laborables: 18 hoyos, 55 €; nueve hoyos, 38 €. Fines de semana y festivos: 18 hoyos, 65 €; nueve hoyos, 45 €. Menores de 18 años, de lunes a domingo y festivos, 30 €. Green fee reducido clientes de alojamientos concertados.
Putting Green: Sí
Credit cards: Visa, Mastercard
Services Club:

Rental carts: 5 €
Clubs: 20 €
Practice range: 40 puestos
Chipping area: Sí
Lessons: Contactar para tarifas de clases particulares