Campo de Golf y Escuela Las Rejas Benidorm Sol de Poniente
Las Rejas Sol de Poniente is a new nine-hole par 3 golf course in a privileged location on Benidorm's Poniente beach, only a short distance from the town centre, with a superb design and panoramic, almost idyllic, views.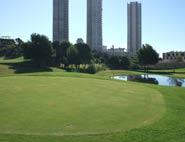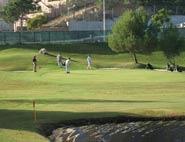 The course's practically perfect facilities allow for a quick and comfortable game, while adding degrees of difficulty to challenge your level of play. Posting a good card on this course is far from simple, and a good strategy is essential: play a risky game from the outset, or take your chances at key moments, when the pin is within reach.
The greens range from receptive to ones with a glass-like surface, where the ball zips through and can end up out of control unless struck with accuracy and care.
Features:

Designer of the field: Ramón Espinosa
Type of grass: Poa (winter). Bermuda (summer)
Address:

Calle Presidente Adolfo Suarez, 5 (detrás de la avenida Vicente Pérez Devesa y del Instituto Mediterrànea)
CP: 03502
Phone: +34 966 889 775
Route:

Take the AP-7 motorway,exit 65. From N-332 exit Terra Mítica. Continue towards Playa Poniente.
Closest airport:
El Altet (Alicante), 45 km
Rates and opening times:

Holes: 9
Opening times: Horario de invierno: de lunes a domingo, de 09.00 a 18.00 h. Horario de verano: de lunes a domingo, de 09.00 a 20.30 h (o hasta la caída del sol)
Green fees: 15 € todo el día
Credit cards: Visa, Mastercard
Services Club:

Pitch and putt: Sí
Rental carts: 2,80 €
Clubs: 7 € medio juego