Multiaventura Temps Actiu
Live the experience. Enjoy the adventure
We are a company dedicated to active leisure and having fun outdoors, and we run a multi-adventure park with different circuits. The park is suitable for having fun with friends and the whole family, where you can combine it with a number of activities such as archery, children's paintball, an obstacle course, mini quads, and many other activities near the park.
Otras actividades organizadas por la empresa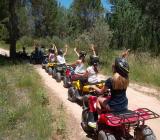 A motorcycle with four wheels and, by extension, driving four-wheel drive motorcycles through forest trails or duly prepared circuits. This activity is often carried out in groups and led by......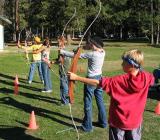 Aim, and... shoot!
A sport based on precision and concentration, and whose ideal medium is the natural environment. A bow is made from a body ending in two flat, flexible ends to which a bowstring...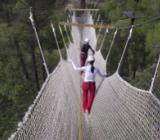 Enjoy several adventure techniques at the same time
Adventure circuits combine the practice of activities such as following rope bridges, zip lines, rails, Tibetan bridges, among others. They...