Saltapins
An adventure circuit for the whole family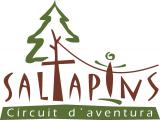 Activities for all: children aged 6 and up, adults, athletes, adventure sports lovers, families, school groups, businesses, etc.
You will be surprise yourself by walking over Tibetan rope bridges, walkways, hanging brackets, barrels and vines... or by sliding down zip lines that are over 100 meters long. And for all this to be carried out in a safe environment, Saltapins has a team of monitors who specialise in these activities and who will be delighted to help you, equip you and watch over you at all times.
Otras actividades organizadas por la empresa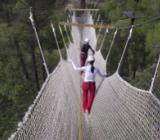 Enjoy several adventure techniques at the same time
Adventure circuits combine the practice of activities such as following rope bridges, zip lines, rails, Tibetan bridges, among others. They...